Important declaration: The writer has personal connections to one or more of the people behind Alwa's Legacy.
Elden Pixels is back. It is now over three years since the studio's first game Alwa's Awakening released on PC. The game has since come out on all active consoles for a warm welcome. To succeed in following up a first game that is so successful is not the easiest – especially no more a basic team at four people. Fortunately, the sequel is Alwa's Legacy worth your time just as much as its predecessor. However, not without a few small patches.
Alwa wakes up (again)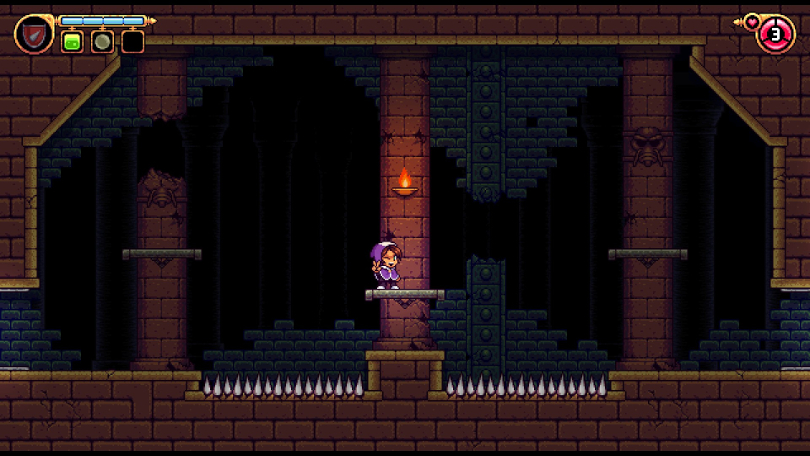 Alwa's Legacy is independent of its predecessor in that you do not have to play one to enjoy the other. The story is, however, a direct sequel where our poor main character is drawn with such a painful memory loss. Since Alwa's Legacy is a metroidvania game (platform adventure with exploration in focus) it serves as an excellent excuse to collect all the magic from its predecessor again.
Just as in the previous section, you have three spells at hand: bubble, block and flash (or fire, depending on how you look at it). New for this time, however, are additional skills attached to each spell. These you unlock with the help of the game's main collection items: small blue balls. There are 99 of them and they are scattered a bit everywhere in classic metroidvania fashion. The abilities that these orbits give you are indispensable if you are to be able to visit the world of Alwa all angles and corners. Therefore, it is good that you can reset each spell and re-expose the sphere ("respeca", as we say in the game world). Unfortunately, you have to visit a magician to do so, which can be a daunting detour if you don't use the save points wisely. More on these below.
---
A whole new world
Since Alwa's Legacy takes place in a completely different world from its predecessor, the environments are brand new. Where the predecessor mainly imitated Nintendo's eight-bit console when it comes to graphics and sound, the sequel looks more like Super Nintendo when it comes to the visual impression. However, the sound is and remains decidedly "chip-tune" and is very similar to the previous game.
The map itself is in one piece. Although each cave takes you to a separate area, every room in it is visible on the same map screen as the rest of the world. That each area is additionally properly named and clearly demarcated means that Alwa's Legacy is a game that is relatively easy to find. If, as a "complementary", you still need help finding the last items, there is a help function for that in the settings menu.
Savings points are evenly scattered throughout the map and can be turned into teleportals if Zoe has a Tear to trap for them. These you will find just like the above mentioned globe a little everywhere in Alwa. However, you should start with them initially. Spreading them out evenly allows you to always teleport reasonably close to your target.
Not completely adjustable
Alwa's Legacy is built to enable talented players to wrestle with which sequence all key scenes should end up in. Overall, Elden Pixels has succeeded completely okay with that feat. However, they really need a few details before the whole project gets the same elegant whole as the studio's previous achievement Alwa's Awakening. The biggest problem concerns a certain cave in the game. This cave has turned out to have a little bigger need for patches. Possibly it will get a little make-over, judging by forum posts. Personally, I didn't lock myself into it, which some other players succeeded with, but the villain in question also put sticks in my wheels.
Another problem concerns clear language. Given how hand-holding and accommodating Alwa's Legacy is with new abilities then the occasions when the game does not speak clear language with the user is particularly protruding. Such an opportunity happens during the second half of the game, and here went the signed bet. Rather than the developers' hope that players should test every combination, I took the life of Zoe instead. Death will take you back to the last save point with any new objects, abilities and pressed buttons completely intact.
However, the biggest problem at present concerns the control in Alwa's Legacy. A welcome setting option in the game is fully selectable controls. You can select specific buttons for all commands as long as you do not run with a Switch control (which the undersigned obviously does). The game switches to default settings regardless of what the player chooses. For some reason, this bug mainly affects players using the Switch control, but Dual Shock 4 users have also reported problems. In addition, the settings do not recognize ZR and ZL (Thus L2 / R2), and only allow magic switches in one direction. Each is not in itself a dealbreaker, but together they are a big minus.
---
Takes in from the grass roots
Alwa's Legacy was funded entirely through a Kickstarter campaign. The developers asked for SEK 250,000 and together received a total of SEK 290,369 on 924 financiers. Signed is one of these. Fortunately, we did not have to wait long Alwa's Legacy, which has been in development since March 2018. The Kickstarter page opened in November 2019; the game runs a little more than six months later. In other words, the money was spent on polishing the game and paying for the external talents that helped calm the project: extra pixel and concept artists, composer and sound technicians. They all do their thing to get Alwa's Legacy to stand out a bit from the considerable amount of games in the metroidvania genre that are coming out these days.
Alwa's Legacy is a game that takes full advantage of the legacy of its predecessor. The vast majority of the puzzle pieces are sharper and more polished. More of all the good with a little new, simply. Hopefully the problems with checks and other problems will soon be a memory, and the rating on this review can be increased by one point. Until then, however, it deserves Alwa's Legacy a small warning text.
Alwa's Legacy released on June 17 to PC (Steam and GOG) after a successful Kickstarter-campaign. A Switch version is announced but has no fixed release date yet. This review is possible thanks to a backer code (the reviewer backed the SEK 200 level). The price tag is EUR 14.99 on both Steam and GOG.