We walked around the Chinatown neighborhood, Watson. She almost dragged her feet behind her. The restlessness crept into her body, into the circles. She had already consulted with the fixers – there were no jobs in her price range at the moment. V took a sharp turn into a dirty alley, maybe she would find a couple of nonsense she could muck quarrel with. The skimmers who stood inside the garbage slid into the shadows when they saw her.
She swore loudly and punched her gorilla in the concrete wall.
The smog and heat made her hair oily. It would be nice with a shorter hairstyle, or ponytail. But in Night City there were no lounges.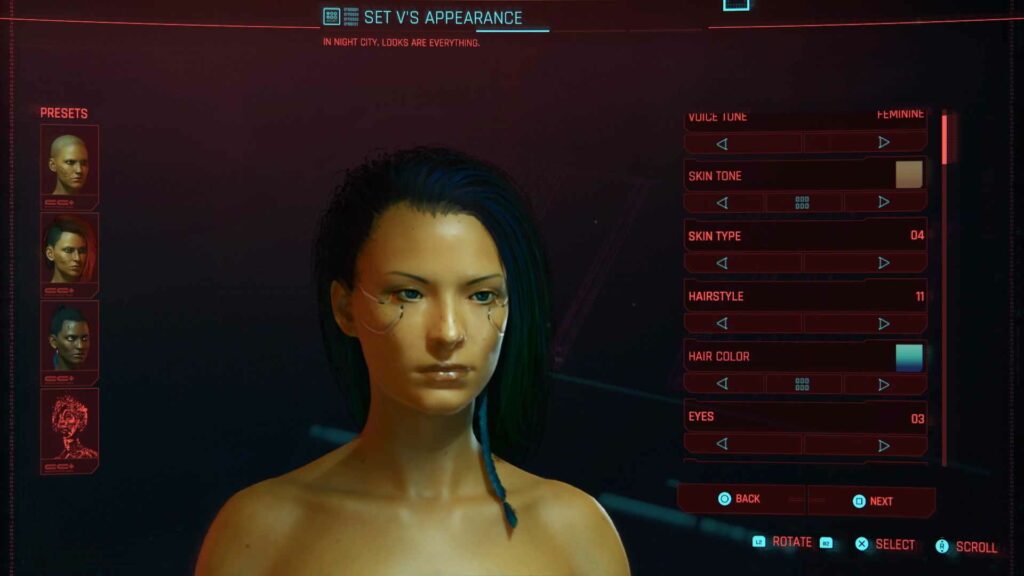 The lack of simple features
In a previous post from Cyberloggen, I discussed performance, characters and environments. In this post, I want to highlight the lack of features that were both expected by the game and had made the world interactive.
After almost 40 hours in Night City, I have started looking for alternative activities in Cyberpunk 2077. To my disappointment, there is not much else to do except clear away the rubbish from the streets and undertake short gigs. Apart from main and side jobs, there is not much else to find in Cyberpunk 2077. Sure you can craft weapons and buy clothes in the shops, but otherwise nothing.
I'll list some of the features I coldly expected Cyberpunk 2077 would offer:
The opportunity to cut their hair (beard and pubic hair included).
The opportunity to change their gender and appearance.
Have companions / sidekicks.
Be able to play billiards, cards, dice and arcade games.
Be able to compete in street racing and burfighting.
Watch braindance.
In that way Cyberpunk 2077 has been produced in marketing and trailers, it is implied for a gamer that the game – which is a role-playing game in an open world – would offer hair salons and mini-games. In the dark future Cyberpunk takes place in, I really thought we could watch shorter braindance movies, modify our appearance in plastic surgeons through body sculpting and participate in illegal competitions. And why can we not have a helper with us?
But the fact is that Cyberpunk 2077 do not have any of this! You can participate in races and fighters, but this is only during missions related to these. When those missions are over, you can no longer compete at all. You will not even be able to participate in random firefights in traffic except in action sequences during specific missions! Cyberpunk 2077 is severely limited in the activities you have at your disposal. The central missions are phenomenal with both good story, acting and action. But when you are free to do what you want, you quickly discover how little variety there is in Night City.
And now I do not even list the features I hoped the game would offer: such as being able to buy other homes, decorate the home, mecca with cars, armor sets with specific features, transmogrification, MORE romantic options, and more! When I sit down and really think about it, there is so much I miss from Cyberpunk 2077 that I'm a little disappointed. I miss the spontaneity of other open world games.
Hope for the future?
If we ignore all the bugs and performance issues, this is an incredibly ambitious game with a well-written story and interesting characters. But it lacks all the opportunities players appreciate – and enjoy – in big single player games. Cyberpunk 2077 is meant to be a game we can play from time to time for several years, but to be honest I do not know what to do after I have experienced all the important story missions.
Cyberpunk 2077 will get a series of free DLC 2021. Hopefully it is the type of DLC that fixes these shortcomings with the game. Unfortunately, CD Projekt Red needs to focus on fixing the game first before they can get hold of add-ons. And given the tumult the studio is in, it may be some time before we see any new additions at all.