Alright, then it's time for my contribution in the revaluation of Cyberpunk 2077, One year later. You have probably seen others watch the game afterwards, especially now that the game has seen a wave of positive reviews on Steam. It is as if people have forgotten the fraud in the marketing and production of the game. That board members and high-paid executives accelerated the creative and qualitative process of selling while interest was high. That consumers have suppressed the terrible working conditions of the people who made the game suffer.
You have probably already read it, but here is the article that puts the disaster in perspective, written by Jason Schreier.
To my knowledge, the lawsuits against CD Projekt RED are still not resolved one year after four reports against the developer ended up with the prosecutor. However, the trial is paused while negotiations are taking place. How it all ends does not seem to affect the developer's work Cyberpunk 2077 which plans to release more updates in 2022.
But how is the game then?
Cyberpunk 2077 today
My original review for Cyberpunk 2077 was on Playstation 4 (with an SSD). I did not have access to Playstation 5 at the time and PC was not worth trying. The PC version, as well as the one at Stadia, would prove to be the best platform to play Cyberpunk on, provided that your computer could live up to the system requirements. Today I am lucky enough to actually own a Playstation 5, however, I have done my new test play on Playstation 4. This is to verify the quality at the lowest level.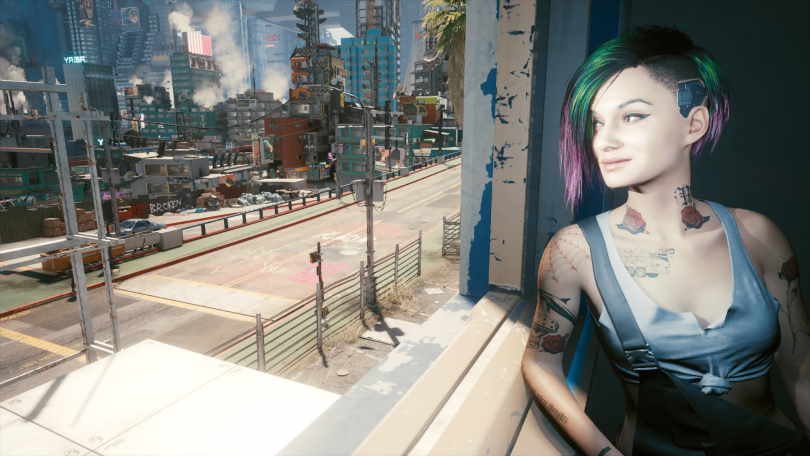 Since the release December 10, 2020 has Cyberpunk 2077 seen several patches and hotfixes that iron out the folds in the game. Thousands of bugs and errors have been fixed so that missions can actually be overcome. Lots of adjustments have made the game more stable – that is, it does not crash as frequently. And some quality improvements have been added that improve the gaming experience, but believe me, these are not very revolutionary.
To be completely honest, I did not have the strength to play for so long to push it and provoke a crash. The game actually seemed to run quite stably on my aging PS4. However, the performance was the same with a frame rate well below 30 frames per second and a graphic quality that leaves a lot to be desired. When I was fiddling with the artificial intelligence, I noticed that the population had been reduced. The streets were relatively lifeless with only a few pedestrians and a couple of cars in traffic. But it was possible to play in any case.
While small quality improvements have been added, such as crafting piles of gadgets instead of individual items separately, and the mini-map adapts to vehicle driving, the fact remains that Cyberpunk 2077 is deficient. Police and other artificial intelligence are still at the Stone Age level. There are STILL no opportunities to modify your body, or spend time with fun mini-games. Not even the background stories that were marketed as important introductions to the adventure have expanded and become meaningful.
Of all the free DLC promised, two jackets with useless stats, an orange car and an alternative look to Johnny Silverhand have been delivered.
Cyberpunk 2077 has been marketed and sold as a ready-made full-price game, but is in fact an early access game. Do not buy it if you expect a perfect role-playing game in an open world with a cyberpunk theme. This is a game where several "regular" features are still missing and there is no clear development plan to look forward to. The future of Cyberpunk 2077 is highly uncertain. If you want a more in-depth review of the game (which also addresses the game's positive features), you can read our review – much of the criticism still holds today. Unfortunately.