The second part in Tarsier Studios The nightmare journey begins on February 11th. Varvat has experienced the first two chapters of the game and the preview really gives more flavor. Nakadai gave the predecessor Little Nightmares a well-deserved 8th in his review and praised the game's unique design as well as the eerie atmosphere. The sequel is just as eerie and if possible even psychologically stressful.
The main character is no longer Six. Instead, we play as Mono, a small character who initially finds himself lost in a dark forest full of dangers and traps. On the way forward over logs and stones, death lurks around every corner. Bear scissors hide under the piles of leaves and a mistake in the deep abysses leads to certain death. Early on, Mono meets a small, trapped girl who plays a music box, probably the world's most eerie instrument. This is where the adventure begins. The girl should last turn out to be just Six from the first game. Together it continues on the dangerous path and into the hunter's house. Here a wild hunt begins. The bullets fly and it is important to take protection at just the right time. The whole thing is a scary cat-and-rat game that evokes exactly the panic the developers have imagined.
School is hell
In the second chapter, Mono and Six find themselves in an eerie, dark school where the corridors are patrolled by penalist bullies whose sole purpose is to make life miserable for our main characters. The situation certainly evokes many repressing childhood memories of most players. Most eerie, however, is without a doubt the sadistic teacher who does not shy away from any means in her search for Mono through the classrooms. Just when you think you have found a perfect hiding place, Satmaran sticks out his long neck and looks around the corner. At those times I will hold my breath, despite an unhealthily high heart rate. It is not enough to be cunning. Timing and speed are at least as crucial. A perfectly balanced jump from a ledge can mean the difference between life and death.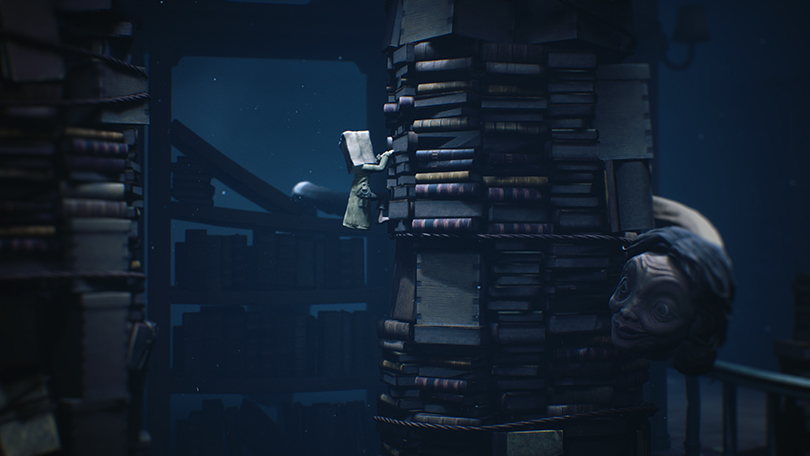 And dying is something you often do in Little Nightmares II. It often takes several attempts to get past an obstacle and for each death you have to start again at the last saving point. Fortunately, the game saves often and you are rarely forced to redo any longer sequence. In addition, it is very fast to reload the game. It happens in reverse immediately.
No puzzle is so difficult that you get stuck completely, but many sections are so tricky that you learn to swear aloud to yourself when you die just before you get to the next autosave. The collaboration with Mono and Six is ​​a new, wonderful addition that adds a dynamic to the game we have not seen before. Many obstacles can only be overcome if the two small figures work together.
Tarsier Studios has put a lot of energy into creating an unpleasant atmosphere in Little Nightmares II. Places like dark forests and desolate school buildings can evoke shivers in the most hardened gamer. There are no unexpected jump scares here. Instead, the game plays a prank with your psyche. You will feel chased and persecuted from the first scene and you will not be able to relax for a single second. Just like in a really horrible nightmare. And that's exactly how we want it in Little Nightmares II.