Anime tie-ins are a common feature of the card game Shadowverse and now it's time for the anime Umamusume: Pretty Derby to have their crossover event in the game. A date has not yet been set, however Shadowversefans are encouraged to keep an eye out for new news. Three of the horse girls from the anime have been confirmed to have leader skins in the game. The three horses are Special Week, Silence Suzuka, and Tokai Teio. They will all be fully voted by their regular voice actors.
Among the previous leader-skins in the game, you can e.g. find anime characters like Lelouch from Code Geassthe zombie idol girls from Zombie Land SagaChika from Kaguya-sama: Love is War and One Punch Man from…. yes, One Punch Man. If all these names sound strange to you readers, it may be high time you got one crunchyroll account and start watching anime.
There were only a few of all the extra leaders in there Shadowverse thanks to previous anime tie-ins – it has been many!
It is Cygames themselves who have created Umamusume: Pretty Derby, which is both an anime and a mobile game. What's up then Umamusume: Pretty Derby if? It is about horse girls (not girls who ride, but girls who ARE horses) who compete against each other in both racing and idol singing. Umamusume: Pretty Derby can be assumed to be a product of tired and kawaiithe culture that is very strong in the Japanese nerd scene.
More content, more rewards.
Okay, I admit. Umamusume: Pretty Derby is not my favorite anime, but an anime tie-in event usually means several things too Shadowverse. If you start from previous models, it usually means a limited solo play mode where you can fight against the anime characters and win card packs and alternate art to cards. So if you have ever dreamed of playing card games against a horse girl, this is a golden opportunity to realize your dream!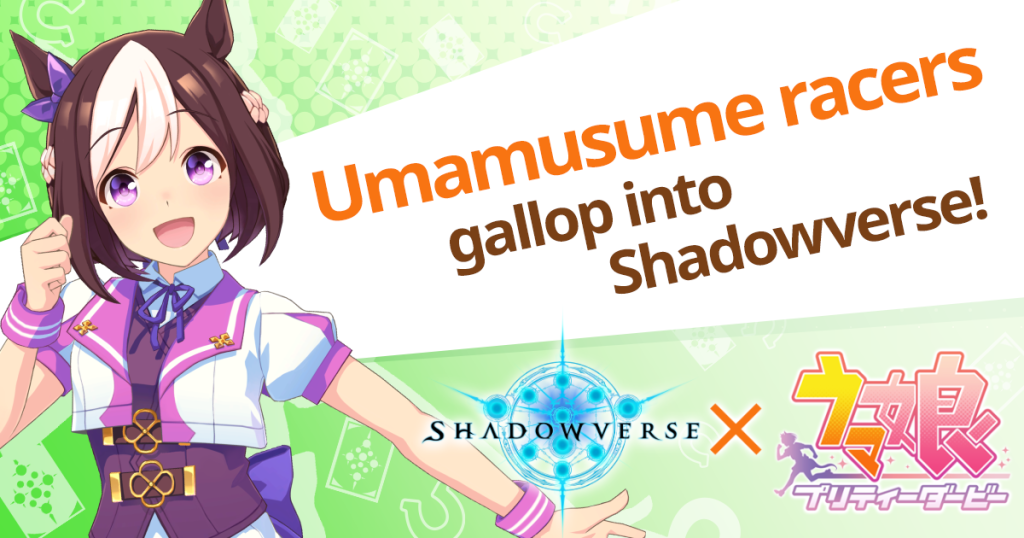 It also usually involves Puzzle Challenges. A Puzzle Challenge is a tricky situation in Shadowverse which must be resolved within a certain number of moves. Even they usually mean rewards!
Start with Shadowverse
Shadowverse is a card game in the same style as Hearthstone and Magic: The Gathering. Two players with 20 lives each use creatures and spells to try to take down the other.
The game is free on Steam and if you want to try it, just go there and play. There is also a Switch version that is perfect for beginners. You can read my review of the Switch version here.
If you start playing, I recommend that you start following Ignideus youtube channel and also join r / Shadowverse discord server for tips and community.
Do you also want to keep track of the e-sports scene in Shadowverse does well to both follow the Shadowverse Open (SVO) on youtube and join their discord server. There is more info to read on their website.