As the holiday season draws closer, the Epic Games Store continues to give giveaways. No less than 4 free titles are planned.
Several games are therefore planned for budding amateurs and Epic Games Store subscribers. Four to be exact. This day, we will thus be entitled and in a free way therefore, to Dead by Daylight, released in 2016. But also to a certain while True: learn (), which I hardly knew. As for the next two games … suspense!
The day and the night
The first of the games available from today, and until December 9, is therefore Dead by daylight. Remember that this game, which has already rolled its bump, is a multi-player action game (4 against 1) plunges you into a horror film atmosphere. Each player can indeed play the role of a bloodthirsty killer while the other four try to escape him by avoiding being caught and killed … In short, a great intellectual game so … I was joking, relax.
The second free title is an unknown in the battalion as far as ME is concerned. Already, he has a name to sleep outside. Under the frozen bridges of Paris. This title with the sweet surname of While True: Learn () is a video game that should not be put in everyone's hands.
You are indeed an expert in machine learning, and you must create artificial neural networks. Except your cat is more gifted. Yes, you read that right. Is it possible? No idea. It's up to you to solve puzzles to create a cat-human translation system. Your goal here is to make a fortune, buy cat clothes, and find out how AA really works!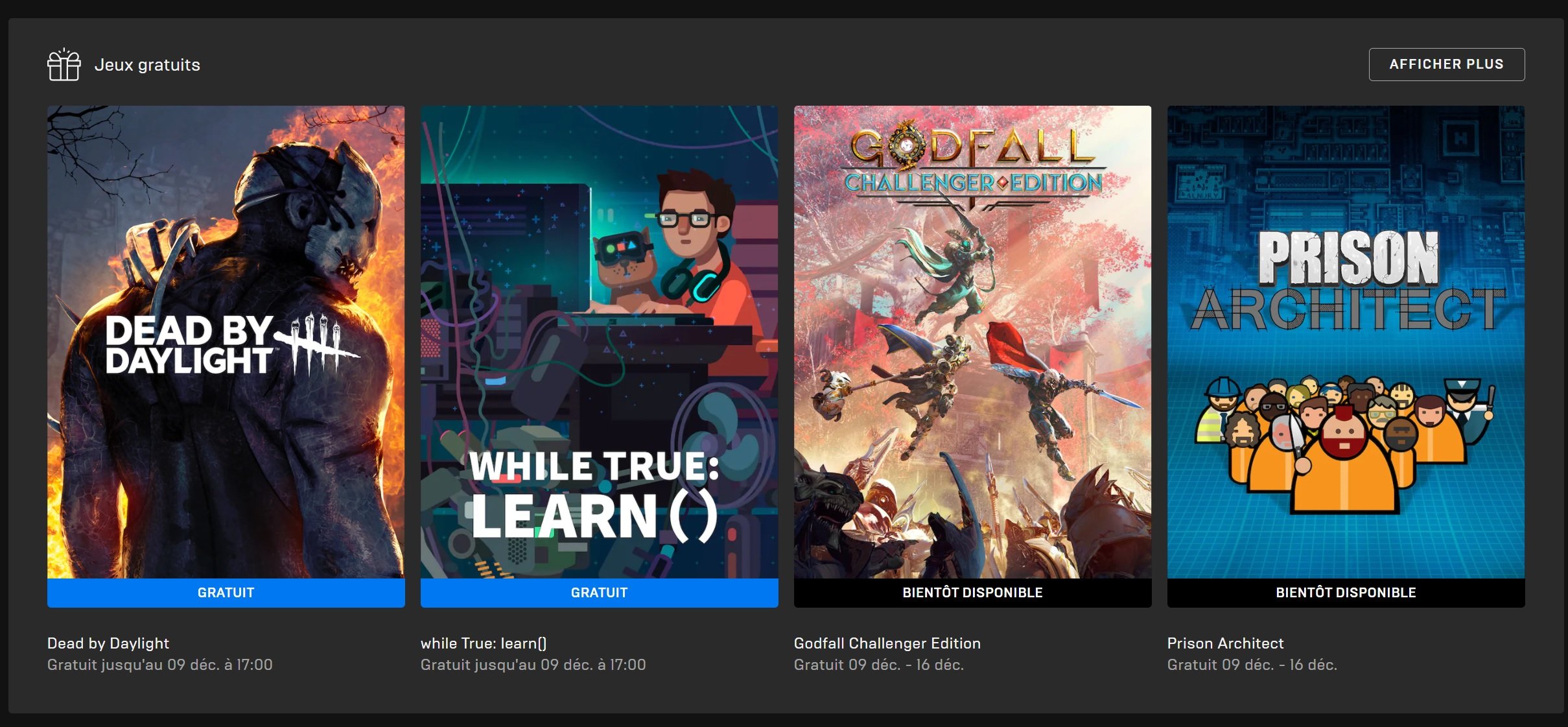 Epic Games Stores for ever
The next two games are none other than Godfall Challenger Edition and Prison Architect. These two games will be available from December 9 to 16, if all goes as planned. Enough to completely enhance your long winter evenings, if you decide to go for it.
Here are the synopses of those two titles, just in case:
Unleash the power of Godfall now! Godfall Challenger Edition will immediately unlock the max level of Valorante, flood you with skill points, and equip you with a ton of deadly weapons. Challenge all three end-game modes!
Welcome, keepers! Only the most ruthless prison guards will be able to contain the most cruel of inmates. In Prison Architect, you will have to design and develop your personalized penitentiary establishment.