On this day that marks the triumphant return of bounty hunter Samus Aran, many players continue to hope to hear about the highly anticipated Breath of the Wild 2 …
Unfortunately for them, Nintendo still seems to be as keen to spare the suspense, even if it means playing the clock. And if we haven't had much to eat since the first (and only) Breath of the Wild 2 trailer aired in 2019 (well, okay: we still found out a little gameplay this summer), it is today the episode released in March 2017 that is making the news. No ? Yes !
Breath of the EX Plus α Prime
Four and a half years after the Breath of the Wild revolution, the Japanese firm has indeed announced a new version of the first cult Switch game: the Japanese online store from the manufacturer has now been offering the purchase of the highly compiled The Legend of Zelda Breath of the Wild + Expansion Pass, a cartridge which therefore brings together the basic adventure, accompanied by the two DLCs released in June and December 2017: The Trials legendaries and Ode aux prodiges :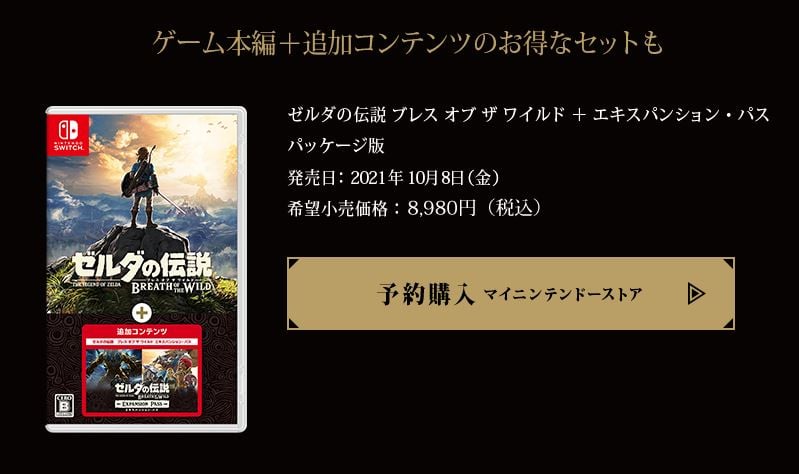 For now only available in its Japanese version, this version as complete as a pancake will allow those who had like yours truly discovered the adventure on WiiU to embark on a great exhaustive catch-up session, before The arrival of The Legend of Zelda Breath of the Wild 2, which should be talked about again one day. And before Metroid Prime 4, as long as we do.
For the not-so-modest sum of 8,980 yen excluding tax (around 70 euros), you will be able to rediscover the open world of Hyrule, but also to face dozens of enemies, to attack a new dungeon, and finally to ride the Legendary Steed, the same as in Mario Kart 8 Deluxe.
Hopefully this attempt to occupy the land cheaply is just the tree that hides the forest, and that the next Zelda, which has according to the official speech "nothing of a continuation", gives us his news soon. After all, some small (not so) smart already thought to see him arrive in 2020 … A single question now stands out: will this cartridge see the light of day here?